Nature Trail in the News
Nature Trail Health and Rehab Center Fetes 103-Year-Old Resident
Mount Vernon Mayor, State Senator Congratulate Mary Tacke on Her Milestone Birthday at Skilled Nursing Facility
Sept. 05, 2023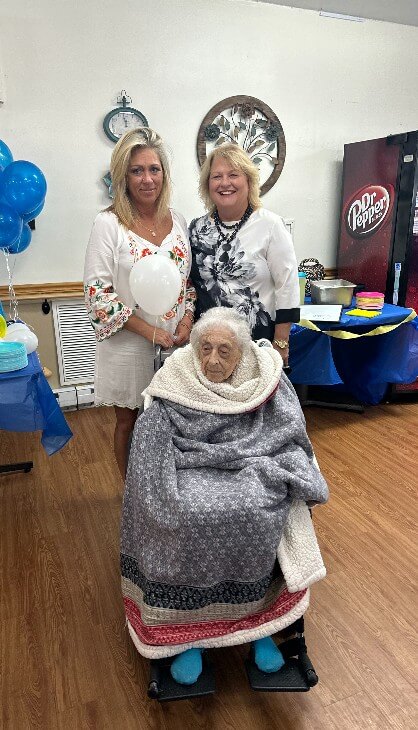 When five generations come together to celebrate a birthday, the birthday girl receives a certificate from the local mayor - and one of the guests is a state senator - you know it's a special occasion. Indeed, Mary Tacke's 103rd birthday celebration at Nature Trail Health and Rehab Center, the 74-bed subacute and skilled nursing facility, was special in many ways.
Mary, the oldest resident at the center, was surrounded by family, staff, and fellow residents at a festive party on Wednesday, August 30, immediately following the regularly scheduled "August Birthdays" celebration for all residents. But while those under 100 got cupcakes, Mary got her own cake. While staff and family are usually two separate cohorts, in Mary's case they overlapped, since her granddaughter, Tina Ellis, is activities director of the facility.
Tina, who lives in Odin and took up her position at about the same time Mary came to live at Nature Trail about one year ago, said her grandmother had lived alone, independently, up until that time. She had, however, spent a short time at the center for therapy after a fall. Describing her as "a faithful Christian lady," she noted that Mary's house was the go-to place after church for a lavish Sunday dinner. "She was such a good cook."
"We are delighted to have her as a resident," said Nature Trail Administrator Susie Williams. "With her acquired wisdom, she has so much to teach us, and she richly deserved this celebration."
"This is a good facility for her," added Tina. She still sits and tells stories, she noted, though her hearing is not so strong.
According to Tina, Mary also enjoyed playing pinochle and painting. Recently, the activities director screened a TV show by artist Bob Ross at Nature Trail and encouraged her grandmother (among others) to paint along. One of Tina's favorite childhood memories was when she and her grandma were raking leaves and used them to stuff her grandfather Albert's bib overalls, adding a hat, gloves, and boots. Propping it on the porch, it received waves from friends and neighbors (but obviously didn't wave back).
Guests at Mary's 103rd birthday party included not only State Senator Terri Bryant but also members of the five generations of Mary's family eager to pay their respects and express their affection. Fellow residents and staff were also on hand to celebrate. Mount Vernon Mayor John Lewis provided Mary a certificate on the occasion of her milestone birthday.
About Nature Trail Health and Rehab Center Nature Trail Health and Rehab Center is a 74-bed skilled nursing facility in Mount Vernon, Ill., providing long-term care, short-term care, rehabilitation, occupational therapy, physical therapy, rehab-to-home, speech therapy, hospice care, and respite care. The center is currently accepting new admissions for short-term rehabilitation and long-term care. For further information, please contact Matt Bryan at 618-472-4208 or visit the Nature Trail website at naturetrailhrc.com.
Nature Trail Health and Rehab Center Observes "National Wear Red Day"
Skilled Nursing Facility Kicks Off Month Dedicated to Cardiovascular Health Awareness
Feb 17, 2023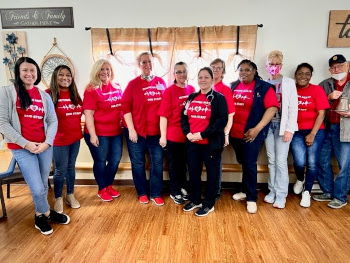 The staff at Nature Trail Health and Rehab Center, the 74-bed subacute and skilled nursing facility, showed their support in the fight against heart disease by donning red attire on National Wear Red Day, observed on Friday, February 3. The initiative is part of the American Heart Association's Go Red for Women campaign to spread heart health awareness.
Cardiovascular disease is the leading cause of death in the U.S., and largely preventable. To help reduce this toll, February is also American Heart Month, a time for the entire community to focus on improving cardiovascular health.
Nature Trail is observing both National Wear Red Day and American Heart Month. "We are focused on the benefits of a healthy lifestyle," said the facility's CEO/administrator, Connie Bonner. "To help raise awareness, the staff has been changing the meal menu and providing soup and salad as healthy alternatives."
Effects of Heart Disease on Women
Heart disease affects women differently than men, according to the National Heart, Lung, and Blood Institute. Factors that can raise women's risk of coronary heart disease more than that of men include:
Diabetes
Low levels of HDL cholesterol
Mild to moderate high blood pressure
Smoking
Sen. Terri Bryant Delivers Valentine's Cards to Residents at Nature Trail Health and Rehab Center
Feb 10, 2023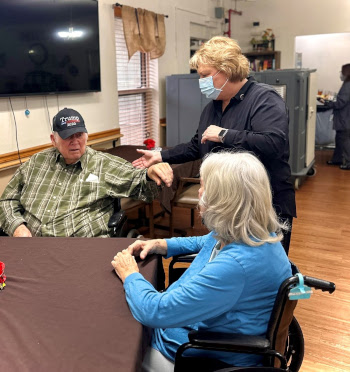 To ensure seniors know they are an important and valued part of the community, Illinois State Senator Terri Bryant delivered Valentine's Day cards to residents of Nature Trail Health and Rehab Center on Feb. 9. The visit was part of her month-long "Valentines for Seniors" card drive to help uplift the spirits of 58th District residents in long-term care and assisted living facilities. The cards came from students, churches, scouting organizations and other community-minded groups who donated homemade and store-bought Valentine's Day cards with the goal of bringing smiles and joy to residents at long-term care facilities. Sen. Bryant (standing) is pictured with resident and veteran Ed Upton.